Davis County Connector
MAY

Dear *|FNAME|* *|LNAME|*,

We're so glad you're taking a minute to read our monthly newsletter. Our goal is to share IMPORTANT, HELPFUL, and FUN information each month. The Davis County Website has additional information to help keep you informed.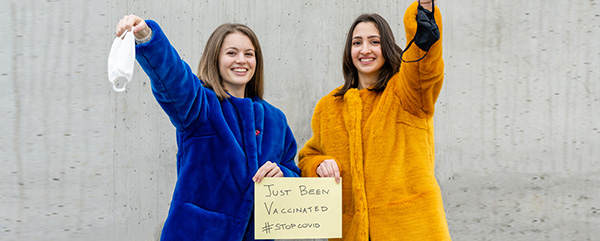 *Important*
COVID-19 Vaccines
The Center for Disease Control (CDC) recently visited and inspected the Davis County Drive-through Mass Vaccination Clinic at the Legacy Events Center in Farmington. They told the state that this facility and its vaccination system is the best one they have seen in the nation. Thank you Davis County Health Department!
We continue to offer the Pfizer, 2-dose vaccine to ages 16+ at the drive-through clinic Monday - Saturday at Legacy Events Center in Farmington. For more information and to schedule appointments use the links below.
Other vaccine providers in Davis County and throughout the state can be found at http://vaccinefinder.org/.
The Health Department is working hard to administer all the quantities of vaccine given to them. Not a single dose goes unused or wasted. The Health Director also credits the County Information Systems department that wrote the software used for creating appointments. The Legacy Events Center, Facilities, Sheriff's Office, Commission, Finance and other departments have all worked together in the massive effort to protect our residents.
Fraud Alert
We've received reports of individuals reproducing and presenting these mask exemption cards with the state of Utah seal on them to businesses and schools. These are FAKE. The state of Utah, UDOH, and local health departments do NOT provide mask exemption cards. Mask exemptions and how to obtain them are outlined in the public health orders here: Statewide COVID-19 Restrictions and here (schools): School Face Mask Order.
Attention ALL Davis County Business Owners:
Business Personal Property Taxes are Due

May 17th

.

HELPFUL
Davis County Senior Activity Centers are now open for activities.

South Davis Senior Activity Center
Shred Day - May 14th, 10 am - 1 pm

Fun!
Family Day at Great Salt Lake Bird Festival

We are thrilled to announce the addition of Family Day to this year's Great Salt Lake Bird Festival! Join us for arts and crafts, a nature scavenger hunt, and fun workshops to learn about all things birds!

Family Day will be held at the George S. and Dolores Doré Eccles Wildlife Education Center in Farmington from 10 a.m. - 2 p.m. on Saturday, May 15, 2021. Registration is required for all participants age 2 and older and is FREE. Face masks are required to participate. Activities will be limited to small group sizes to allow for social distancing. Visit www.GreatSaltLakeBirdFest.com to register for Family Day and for more information about this year's Festival.

Follow Discover Davis on Facebook, Instagram and our blog for more upcoming events and things to do in Davis County!
Give a Rescue Dog a Sleepover!
Animal Care of Davis County is holding its Weekend Wags Class on Friday, May 7th at 4 pm.

The Weekend Wags Program lets you choose a dog for a weekend sleepover at your home. The class includes hints and tips about dog care. You choose a dog, take it home for the weekend and return the dog before 10 am on Monday, May 10th.

1422 East 600 North, Fruit Heights, UT 84037
PetSmart Adoption Event
Join Animal Care of Davis County at the Layton PetSmart on Saturday, May 22nd from 9 am to 1 pm. Cats, dogs and bunnies will be looking for their furever homes.
Foster Kittens. Save Lives.
Kitten season is here. Animal Care of Davis County is in need of Foster Parents to provide kittens with shelter, love and care. Foster Parents will house a litter of kittens for up to 6 weeks and will be able to have one free kitten adoption for the 2021 year.
Library News
We are excited to announce our new virtual storytimes! Join us every Wednesday at 10:30 am. You can sign-up with the link below.

Thanks for celebrating National Library Week with us in April. The week may be over, but celebrating libraries is year-round! We'd love to hear what YOU love most about your library. Check all your favorite services on this ballot and submit.

Be sure to follow us on Facebook and Instagram, check our webpage often for upcoming information about Summer Reading.
Golf Update
Davis Park in Fruit Heights and Valley View in Layton are having record breaking Men's Association turnouts. Ladies golf leagues are getting underway and girls' high school teams are playing and practicing at both facilities.

With the retirement of Brad Stone after 42 years as the PGA Golf Professional at Davis Park Golf Course, a new era in management of the Davis County golf courses is underway. Dustin Volk is now the PGA Director of Golf for Davis County, overseeing both Davis Park and Valley View golf courses. Zach Johnson is the PGA Head Golf Professional at Davis Park and Pete Stone is the PGA Head Golf Professional at Valley View.

For more information about the golf courses or to schedule a tee time, see the links below. All tee times require prepayment.
Unsubscribe
Please forward to family, friends, and neighbors!