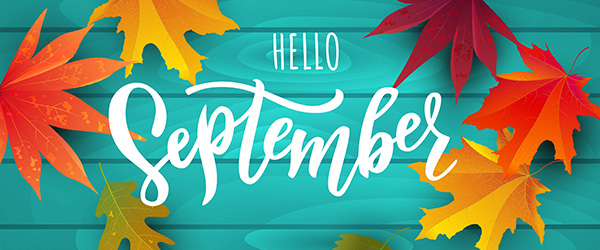 September

Connector
Learn about new development at the Legacy Event Center, 45 years of paramedics in Davis County, fun things to do in September and more.
Davis County Commissioners
"Connecting You To What Matters"
Legacy Events Center
New Redesign/Development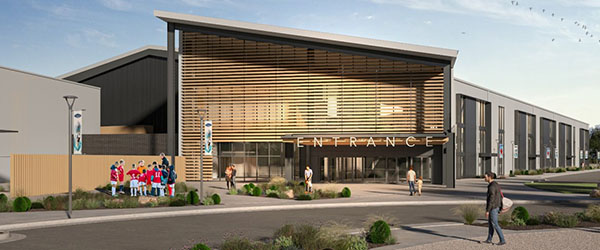 The Legacy Event Center was established in 1990 and was primarily designed to host horse races and equestrian events. In 1998, the Legacy Center building opened and was built to host the 2002 Olympic Rodeo Cultural Event. Since 2002, the venue rarely hosted equestrian events that exceeded 5% of the seating capacity and transitioned to hosting a variety of events including youth sports, trade shows, and dog shows. Over the years the County has conducted multiple feasibility studies concluding that the venue has greater potential to host a variety of events to benefit more of the growing population of Davis County.

In 2021, at the direction of the County Commission, the County contracted with multiple architectural firms to redevelop the Legacy Event Center. Recognizing a small number of equestrian related activities, including 4-H programs, would be displaced, $5 million was committed to construct an equestrian venue at the USU Botanical Center in Kaysville, estimated to be completed in 2023.

The Legacy Event Center redevelopment project will become the home for youth sports tournaments and will be funded through tourism tax revenue, generated primarily from hotels and restaurants. With a new 118k sq. ft. facility, there will be a focus on indoor activities such as wrestling, tumbling, dance, cheer, basketball and volleyball. Outdoor activities will include soccer, lacrosse and ultimate frisbee. The redeveloped facility will also be able to hold high school graduation ceremonies in the future.

The new facility is still in the design phase with ground breaking expected in Spring of 2023 and completion in 2024.
Davis Remembers
The 9/11 Project
Davis County is pleased to partner with the Major Brent Taylor Foundation to bring Davis Remembers - The 9/11 Project to the Legacy Events Center September 7-10, 9am-9pm. This commemorative 9/11 event includes:
Immersive 9/11 Museum Exhibit
Community Resource Fair
Appreciation Station
Touch A Truck
Davis County Paramedics
A 45 Year Old Legacy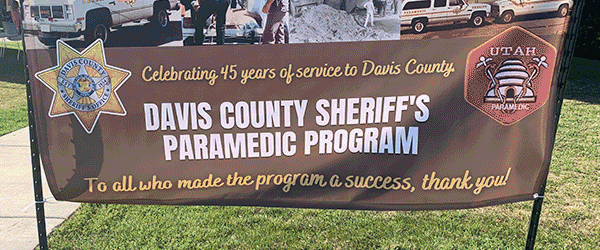 On August 8, 1977, the Davis County Sheriff's Office responded to its very first paramedic call for service. 45 years later and thousands of lives saved, the paramedic program through the Sheriff's Office will conclude at the end of this year.
Under the direction of Sheriff Dub Lawrence, the program was initially mirrored off of the Kent County Sheriff's Office in Kent, Michigan. In the mid-70s, former Chief Deputy Jan Cunningham and Captain Bob Peters studied the program for two weeks, riding with the Emergency Unit deputy paramedics in Kent. When they returned to Utah, they used this wealth of information to petition the State of Utah to create the program. Leary at first, Utah authorized the Davis County Sheriff's Office one rescue truck which serviced the north end of the county. It didn't take long for the State to realize the impact our paramedics were making and eventually authorized two rescue trucks.
At the end of 1977, Dr. Dennis Wyman was appointed as the Medical Director for the Paramedic Program. Under his eye and training, our paramedics went on to service Davis County and its citizens.
In the 80s, when SWAT teams started popping up around the U.S., the Davis County Sheriff's Paramedics were one of the only teams in the country that had an entire SWAT team made up of paramedics. This added responsibility for our team led to hundreds of opportunities to assist Salt Lake City and surrounding counties.
In August, current and former Davis County Deputy Paramedics gathered to say goodbye to the program. This program will be fondly missed by the Sheriff's Office. To the men and women who served for the past 45 years in the capacity of a paramedic, THANK YOU.
Help for Seniors
Aging and Adult Services
For information or to receive Meals on Wheels, call 801-525-5050. Davis County Senior centers are open:
Central Davis - 81 E. Center Street, Kaysville, 801-444-2290
South Davis - 726 South 100 East, Bountiful, 801-451-3660
North Davis - 42 South State Street, Clearfield, 801-525-5080
Bountiful Clinic to Close
September 1st
After September 1, the Bountiful/Woods Cross Clinic will be closed. For services including vaccinations, go to the Clearfield Clinic or check our social media to see when mobile units will be out in Davis County.
Property Taxes
Utah's Truth-in-Taxation Law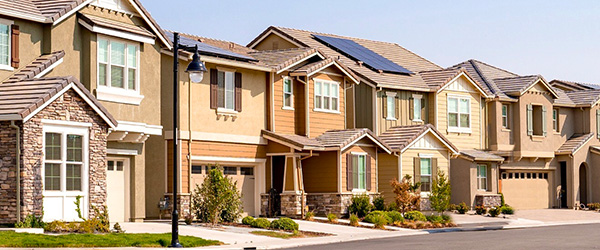 Utah Law requires that property tax rates adjust when property values increase or decrease so the amount of money collected by an entity is the same from year to year aside from growth. Truth in Taxation is the process established by the Utah State Legislature where cities, counties, school and water districts and other taxing entities are required to hold public hearings to inform taxpayers prior to making a tax rate change that would increase the amount of revenue collected from one year to the next.
Why are my property taxes going up?
In Davis County some taxing entities including cities, water districts, mosquito abatement, and the school district are increasing their tax rates to cover increasing costs. Public hearings have been held to let taxpayers know of these increases.
Davis County has not proposed an increase to the certified tax rate to run the county government since 2017.
Additional Reasons for the Increase
Home values are increasing at a higher rate than commercial properties which creates a shift in taxation from commercial to residential. However, that appreciation only hurts homeowners whose property value grew by more than the median increase in a given jurisdiction.
Share with Friends & Family
We are always looking for ways to reach more of our county residents. Please forward this to friends and family and subscribe if you haven't already!
FUN!
September Summer Activities
2nd Annual Scarecrow Walk
September 8th-18th USU Botanical Center, 80 East 725 South, Kaysville
This come and go event is open from dawn to dusk and is free to the public. Enjoy a collection of scarecrows as you meander through USU's botanical gardens. Pathways are both dirt and paved and are accessible for wheelchairs and strollers. Vote for your favorite scarecrow!
Get to the River
Saturday, September 17th 8:30am - 11:00am
Paddle on a 3-mile stretch of the Jordan River starting at the Riverview Boat Ramp in Salt Lake City (1835 N. Redwood Rd.) and ending at Porter's Landing in North Salt Lake (50 S. Jordan River Dr.). A shuttle will be available back to vehicles. Canoes, kayaks, and life vests will be available at no cost, or bring your own.
Library Survey
We want to hear from you!
We want to hear from you on how we can better serve our community and improve your quality of life. Join us in the process! Please take a few minutes to answer the following survey questions:

Thank you for your participation. Information you provide is anonymous.
Library Programs
At The Libraries
We're hosting loads of fun activities like chess workshops, craft nights, LEGO building, book groups, STEAM/STEM programs, and much more.
Davis County Sheriff's Office is Hiring
Jail Nurses and Jail Operations Specialists
4% 401k Match
Yearly Performance Pay Increase
12 Paid Holidays, 13 Vacation Days
Night Shift Pay +4%
Sick Leave
Health Insurance
Labor Day
The Davis County Administration building and supporting offices will be closed Monday September 5th in honor of Labor Day.