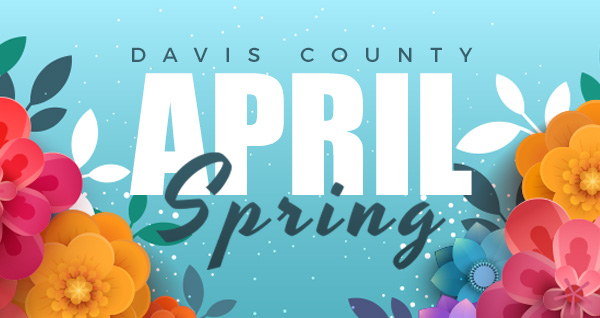 April

Connector
Snow! We wanted it and we got it. Now we hope our lakes and reservoirs benefit from the good year we've had. Read a message from Davis County Public Works related to the spring runoff and find out about events going on in Davis County this month.
A message from Davis County Public Works
This spring is shaping up to be a high runoff year as we have seen record snowpack levels. Here are a few things we can do:
Keep children and pets away from flood control channels.
Keep debris away from the stream banks. Lawn furniture, fire pits, wood, and other equipment can block water from flowing through the culverts.
Clear debris from storm drains and gutters near your home while water is not flowing.
If sandbags are used to protect homes from water, they should be placed near doors and window wells. Well-intended sandbags and other structures can often become a problem with fast flowing water.
If you see significant obstructions in streams or channels, contact Davis County Public Works.
Weber Basin Secondary
Close Water Valves in your Yard
Weber Basin Water will start preparing secondary water lines April 24th. Make sure your main line valves are closed to prevent flooding. Water is expected to be available by May 1st.
Davis County Commissioners
"Connecting You To What Matters"
HELPFUL
Water Conservation Workshop
April 10th, 7:00 pm Centerville Branch Library
Water, water everywhere but not a drop to waste. Find out how to make your yard more water-wise with expert tips from Weber Basin Water Conservancy District.
Understanding Water Rights
Informational Video
Want to increase your water smarts? Learn more about how water rights work in Utah with this video from Utah Division of Water Rights:
Animal Care Events
Vaccinate/Adopt
April 23 - Vaccine Clinic at shelter
April 29 - Adoption Event at Layton Hills Mall 10:00 am - 2:00 pm
Share with Friends & Family
We are always looking for ways to reach more of our county residents. Please forward this to friends and family and subscribe if you haven't already!
UTA transit Services
Public Input Requested
Do you use UTA transit services? The Utah Transit Authority is planning for their August Change Day and is looking for public input on proposed route and schedule changes. Public comments are open from March 22 until April 21. A public hearing will be on April 6 where riders can ask questions and learn more.
FUN!
Great Salt Lake Bird Festival
Fri May 19, 4:30 - 7:30 pm | Free Opening Night
Sat May 20, 9:00 am - 2:00 pm | Family Day
We are pleased to offer over 50 field trips and 15 workshops during this year's festival. Our festival offerings are designed to create a unique experience with trips providing "behind the gates" access to areas that cannot be accessed by the general public. Attendees will be able to experience some of Utah's most beautiful State Parks, State Wildlife Areas, and National Refuge areas. Utah is known for its diverse habitats, which result in a variety of birds. Vast desserts, high mountain peaks, rushing rivers, and of course, the saltiest lake in the country are sure to lure the most fascinating birds from all over the world!
After Ever After
Library Event
April 24 - 26 - See our events calendar for dates and times at a library near you!
An evening of fractured fairy tale activities for the whole family
Davis County is Hiring!
We are eagerly searching for highly qualified individuals to join our amazing team. We are currently offering a wide array of career paths, and are looking forward to showing you how rewarding our environment, benefits, and services can be for our employees!
One Utah Summit
May 1st - 2nd
Davis Conference Center, Layton
Hosted by Gov. Cox and the Utah Governor's Office of Economic Opportunity, this gathering brings together government and business leaders to discuss Utah's economic and development trends.