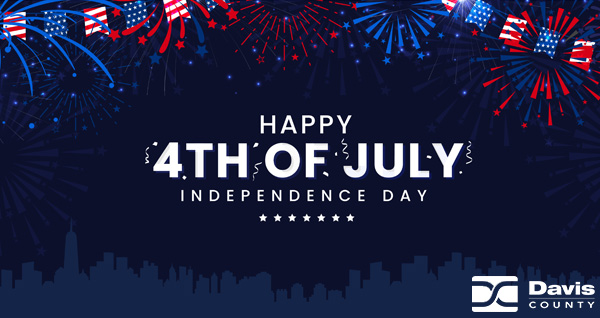 July

Connector
Learn about a new youth sports facility coming to Davis County, police and fire departments helping Animal Care, weed control, city celebrations and more.
IMPORTANT
New Davis County Sports Facility
Davis County officials were joined by Utah Lt. Gov. Deidre Henderson at the groundbreaking for the Western Sports Park, a new home for athletic tournaments in Davis County. The existing Legacy Event Center will be renovated with an add-on facility for future sporting events and high school graduations. Funding for this project comes largely from the tourism fund, not the County general fund.
Davis County Commissioners
"Connecting You To What Matters"
In 2022 Davis County Animal Care qualified as a "no kill" facility and they are working hard to keep that status through encouraging animal adoptions. The current facility and staff for Animal Care are overwhelmed and at capacity.

In an effort to bring awareness to the need for more adoptions, the Davis County Sheriff's Office, local police and fire departments had a friendly competition to see who could help get the most dogs adopted. They took dogs around in patrol cars and posted photos with dogs on social media. Kaysville Fire Department was the winner of the Cops vs Fire event where a total of 18 dogs found new homes. More dogs and cats are available for adoption and fostering.
Assessor's Office
Property Owners
Valuation notices for real property will be sent out July 22nd. Appeals are due before September 15, 2023.
For questions about Appeals, call
801-451-3329.
HELPFUL
Davis County - In the Weeds
Utah State Law requires counties to supervise and control listed noxious weeds. Davis County has a team of professionals who work with experts from the Utah Department of Agriculture and Utah State University to combat a variety of weeds.
Meet Your Davis County Weed Department
Share with Friends & Family
We are always looking for ways to reach more of our county residents. Please forward this to friends and family and subscribe if you haven't already!
FUN!
Parades, Fireworks and Celebrations
July 1 - Centerville Concert in the Park 8:30pm, Fireworks at Dusk
July 1 - North Salt Lake Liberty Fest
July 2 - Kaysville Patriotic Devotional 7:00pm
July 2 - Clearfield Patriotic Concert 7:30pm
July 3 - North Salt Lake Liberty Fest, Fireworks at 10pm
July 3 - West Bountiful Celebration at City Park, Fireworks at 10pm
July 4 - Centerville Parade 9am
July 4 - West Bountiful Parade 10am
July 4 - Kaysville Parade 10am, Fireworks at 10pm
July 4 - Layton City Liberty Days Parade 10:30am, Fireworks 10pm
July 4 - West Point City Parade 8:30am, Fireworks 10pm
July 4 - Clearfield City Parade 9:30am
July 10-15 Farmington Festival Days
July 14-15 Bountiful Handcart Days
July 14-15 Sunset Fun Days
Aug 5-12 South Weber Country Fair Days
Take a Dog for a Day
Animal Care
Take a Dog for a Day with the
Sniff-About at Davis County Animal Care!
Davis County is Hiring!
We are eagerly searching for highly qualified individuals to join our amazing team. We are currently offering a wide array of career paths, and are looking forward to showing you how rewarding our environment, benefits, and services can be for our employees!
Davis Heritage Festival
2nd Annual
The second annual Davis Heritage Festival, will be held August 3-5, 2023 at the Utah State University Botanical Center in Kaysville, Utah. Ten thousand plus visitors are expected to attend this event to enjoy and learn more about our Davis Heritage and enjoy the Davis County Jr. Livestock Show & Sale, which will be a part of our Davis Heritage Festival.
Library
National Endowments for the Arts
The Davis County Library was recently awarded a National Endowments for the Arts (NEA) grant to participate in a community Big Reads program. The book will be The Bear by Andrew Krivak. Updates about this event will be coming before the September start date.
Summer Reading 2023
All Together Now
Keep reading, filling out your Summer Reading trackers, and attending activities! Participation in June has been great and we look forward to another month of fun at the library.
Independence Day
The Davis County Administration building and supporting offices will be closed in honor of the of the Independence Day Holiday.
Pioneer Day
The Davis County Administration building and supporting offices will be closed in honor of Utah's Pioneer Day.